A JUNK FREE PLANET

(Your Full Service Professional Junk Hauling Company)
Specializing in removing and disposing of  junk, rubbish, debris and trash in the Beverly Hills, Brentwood, Burbank, Glendale, North Hollywood, Northridge, Pasadena, Santa Monica, Sherman Oaks, Studio City, West Hollywood, Van Nuys, Woodland Hills & the Greater Los Angeles area.
We are committed to serving our community by providing a professional, high quality, reliable Junk Hauling and Junk Removal service.
Trash Hauling, Rubbish Removal, Residential Debris Removal, Old Furniture Disposal, Yard Waste Removal, Hot Tub and Jacuzzi Spa Removal.  You name it, whatever you want to discard, we will remove it for you, on or around your home, property or business.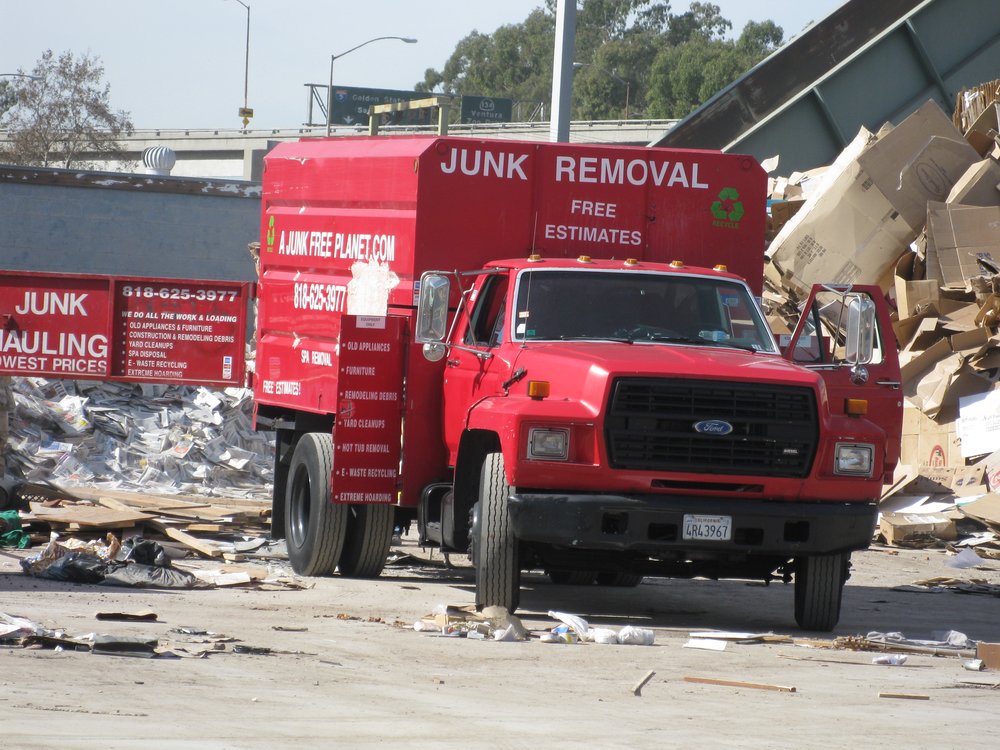 Our truck is 14 feet long by 6 feet high and 9 feet wide. Much larger than the other guys who's trucks are usually only 10 by 5 by 8! That's a huge difference in space and price especially when you're dealing with a full load.

This is why we like to go in great detail over the phone as to what items you have to be sure we have the space and proper tools for the job. In order to make sure your house is still looking wonderful when we leave, we make sure to place the truck in a way that is not intrusive to your driveway if necessary and always clean the area under the truck just in case some of those unwanted items want to try and hang around.
The process begins with a call to one of our friendly Customer Care Representatives. We are on call 24 hours a day in case of a junk emergency. In this call we will go over with you step by step what type of items you need removed and where they are located. If you have mobility problems or just don't even want to look at the stuff any more (we know the feeling) don't worry, we can remove the items from anywhere in your home, just point the way! We pride ourselves on having a hands on approach that will leave you with more time to think of what you will do with all that space! During this call we will determine a range of how much space you will need in our truck. The way we charge is all volume based, so the more junk you have, the better the price will be.
Call Today! 
(818) 625-3977
(800) 811-5865
____________________________________________________________________________________________